Get Pre-Approved In
Under 3 Minutes!
Flexible financing with options targeted to meet your needs.
Apply Now >
Financing & Credit
Here at Byrider, we don't just want to put you in the driver's seat of a quality used car, we also want to help put you in the driver's seat of your financial future. We understand that you're more than just a number, which is why we look at much more than just your credit score during the approval process. But we also realize that your credit score is important for a number of life's important purchases, so we've got you covered there, too.
Don't have a credit score? We're great for that too! Starting your credit history with a solid track record of regular, on-time monthly payments can help you get on the right path for financial success in the future. Come talk with us and see how we can help you get in the fast lane to improving your credit.
Get Pre-Approved >
We buy your cars
Ready to make a change to a different vehicle? Maybe your current vehicle no longer fits your lifestyle, or maybe you just want something new. No matter what the reason, you may be wondering how to sell your used car to make room for a new one. There's a very good chance that your used car has plenty more miles left in it. If you're looking for a fair price for your used car, talk to us.
At Byrider, we're more than happy to take a look at your car and see if we can make you an offer. We take cars, trucks, SUVs, and more.
Get an offer >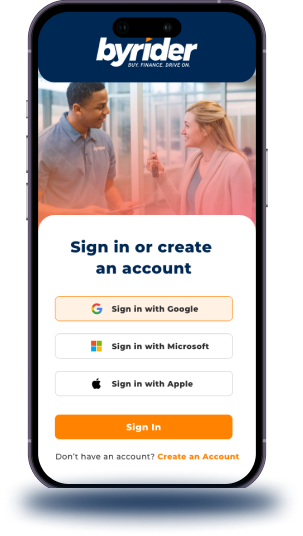 One Of The Nation's Best Solutions for People Who Need Auto Financing
Download the MyByrider app to make payments for your CNAC Account.