Buy Here Pay Here Auto Financing
Byrider believes that everyone deserves a chance to qualify for financing on a great vehicle — regardless of credit history or credit score.
What is Buy Here Pay Here Financing?
When you buy a car through a traditional dealership, your loan is approved through outside institutions who make the final decision whether or not you're qualified. But if you're one of the millions of Americans who struggle with bad credit or no credit, it can be impossible to get qualified.
Buy Here Pay Here dealerships, like Byrider, offer our customers in-house financing. That means no outside institutions can tell us who we can and can't finance to. Because no matter who you are, we want to get you the car you need.
One of the biggest advantages of working with a Buy Here Pay Here dealership is the fast approval process. Since Byrider doesn't rely on outside banks, we can streamline the approval process to save you time and energy. Some customers can get same-day approvals with no money† down!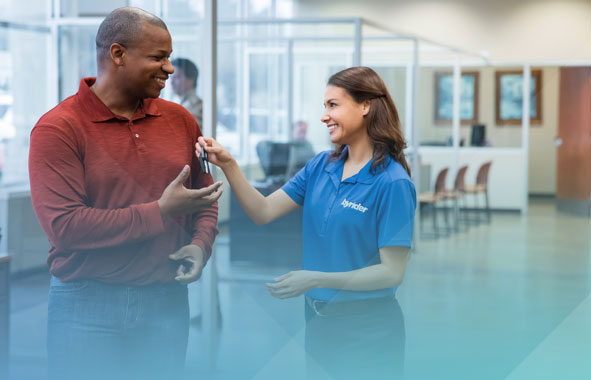 Bad Credit or No Credit?
No problem. We'll take a look at your credit score, but it's not the only thing we use to make our decisions. We consider your whole financial situation, including your income and vehicle needs before making a decision on your application.
Past Repossession?
A repossession can have an impact on your credit score, making you less likely to qualify for financing at a traditional dealership. But that doesn't mean you can't qualify for a pre-owned car from Byrider. We offer reliable, in-house financing to people who have a history of repossession or other serious credit issues.
No Down Payment?
At Byrider, some of our buyers can qualify for financing with as little as $0† down. You can hold onto your paycheck and get behind the wheel of a great pre-owned car!
Resources For Your Next Car Purchase
Don't let your credit score keep you from getting the reliable and transportation you need. These resources can help you prepare for your next car purchase at Byrider:
Is a Buy Here Pay Here Car Right for You?
You don't have much time. Buying a car through a traditional dealership can take time. Time that you can't afford to spend trying to close a deal on the purchase of a vehicle. Buy Here Pay Here dealerships like Byrider make the process a lot faster.
You want to improve your credit score. Buying from a Buy Here Pay Here dealership – and then making all of your payments on time – may actually improve your credit.
You want to get pre-approved. If you've been turned down previously for an auto loan at a traditional dealership, shop with Byrider for a new way of doing business.
You want a custom payment plan. We want your car financing to work for you. That means we can customize your payment schedule to match up with the times of the month when you have funds available.
You don't have a big down payment. At Byrider, down payments can be as low as $0†. Even if you need to put a little money down to close the deal, we like to keep this requirement as modest as possible to help you get on the road.
You need a vehicle. You need a trustworthy set of wheels to get where you need to go. Byrider will help you find the right car at the right price so you can get on with your life.